Jump to:
Vacation Bible Schools in Mexico
Meet Our Co-Laborers - Aringua
Resurrection Power
Dear Family,
As much of the western world celebrates Easter, many Christians celebrate the resurrection of our Lord Jesus. Because of our traditional habits, we still hear the phrase Happy Easter, yet hopefully, we will remember to keep our focus on Jesus.
My thoughts as I write this are thoughts full of appreciation for the Resurrection Power that is at work in my life, drawing me ever closer to that glorious day when I greet the Resurrected One.
Oh, the sweetness of our revelation from Romans 4:24-25, … We believe on Him that raised up Jesus our Lord from the dead; who was delivered (died) for our offenses and raised again for our justification (acquittal).
Because of the cleansing power of the sacrificial blood of the Lamb of God, I can truly celebrate resurrection on a daily basis. Not only do I celebrate the forgiveness of sins past, I also celebrate His power at work in me today, strengthening me against the potential of sins future.
I'm not the same ole boy I used to be, and by His help and grace, I can successfully endeavor to live the life of a new creature in Christ Jesus my Lord. Our colorful Easter eggs grow pale in light of our resurrection revelation. To God be the Glory!
Another thought rich in appreciation is the reminder of your support in prayer and finances that keep us moving through the fields that are ripe unto harvest. With your help, we will continue to increase the population that celebrates Resurrection Day, not just Easter.
Blessed,
Calvin and Barbara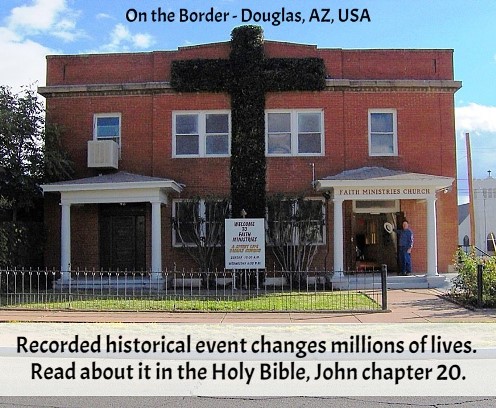 Declarations
In faith speak these decrees over your life and needs. We believe they are in agreement with the Biblically declared promises to the body of Christ that are the result of the resurrection of our Lord Jesus.
I decree that my life and entire person is sanctified and preserved blameless by the all-cleansing power of the blood of Jesus. (I Thessalonians 5:23)
I decree that God supplies every one of my needs by the riches of our Lord Jesus. (Philippians 4:19)
I decree that I am healed because of the stripes (wounds) that Jesus suffered on His back at Calvary. (I Peter 2:24)
I decree that all of my children shall learn of the Lord and come to a great and satisfying peace in their lives. (Isaiah 54:13)
I decree a time of refreshing and delight in the presence of the Lord, a renewed vision that allows us to see in perspective in the eternal, where our past is a foundation for our present, where we see the fulfilling of God's promises and the beginning of new ventures. (Acts 3:19; Isaiah 43:19)
I decree I walk in God's shalom; safety, health, prosperity, peace, and wholeness. (Isaiah 53:5)
Vacation Bible School's in Mexico
Jesus told us in Matthew 19:14 … Allow the little children to come to Me, and do not forbid them; for of such is the kingdom of Heaven.
It's time to order materials for this year's VBS programs. Last year with your help, Faith Ministries provided material for 7,000 children in many small towns throughout Sonora and Chihuahua. This year we would like to purchase material for 7,500 children. It costs an average of $1.00 per child to present these programs to the many places where they are used. We need to order material in April, so distribution and prep can be done in May. The VBS programs will be presented from June to September.
These children spend a week immersing in God's Word. Many children will meet Jesus as their Savior for the first time. These programs present the Gospel in a way that makes it attractive and fun to hear and memorize God's Word.
Most of these children don't attend a Christian church, so it is a special opportunity to not only sow God's Word in their hearts but to send it home to their families as well.
Vacation Bible School's in Mexico
Food Request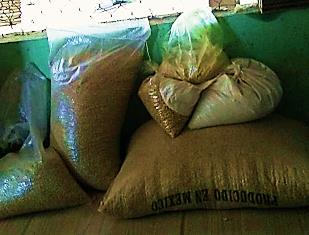 Felipe and Carmen Vasquez organize the VBS and Christmas Outreaches in the region around Navojoa. They have 23 teams that reach 5,000 children in 60 communities. Some of these communities are among the poorest in Sonora.
Felipe and Carmen have requested help to purchase beans, rice, and corn flour to give out in these areas as they are doing programs. It would be a blessing if you would help FMI provide food for the hungry. Due to the expense and red tape of importation, we can feed more people by buying in Mexico.
Meet our Co-Laborers
In Guaymas, Sonora, Mexico:

Gilberto and Candy Aringua

We met Gilberto and Candy in 2006. They have been doing Saturday services for the homeless in Guaymas, Sonora for 17 years through their homeless outreach: Dream Center. They are faithful every Saturday, hot or cold, rain or shine.

They have singing, preaching, and then feed about 150 people every week. Their plates are full of good home cooked food. When they receive their food, they go to the end of the line. They can have their plate refilled as long as the food lasts. Many of the men eat three plates of food.

When we arrived for a visit in February, there was a man preaching. He told the men, "God wants to give you a new life. He wants to give you a job, a home, and a family."

While he preached, I was thinking, "Can he really relate to these men?"

As soon as the service ended I went to visit with Candy. She told me, "The man who was preaching had been a heroin addict and was born again right here. Now he pastors one of the local churches."

Praise God! Now I know, he does relate.

Just a week before we were there, a 14-year-old came who was traveling. After he ate he started crying. They asked why he was crying. He told them, "I hadn't eaten anything in a week and you gave me food."

Periodically Faith Ministries sends an offering to help with their ministry. Candy told me, "When we are in the greatest need, your offerings come." And, "People are always telling us to quit doing these outreaches. 'It's hard work and you're getting old. The men are addicts and you really can't do much for them anyway.' "

She replies, "As long as we have breath, we will be here."

In addition to their work at the Dream Center, Gilberto and Candy are pastors of CC El Camino in Guaymas.

This ministry is seed in good ground. If you want to support this outreach, we will get your offerings to this worthy ministry.
Subscribe to our monthly newslettes.
You will find information about Missions Trips, Christmas Outreaches and Vacation Bible Schools by clicking on the Evangelism link to the right under the Main Menu.