Jump to:
Excited About Upcoming Christmas Programs
Meet Our Co-Laborers - Chow and Maulus
What Is The Bible Trying To Tell Me?
Dear Beloved,

An interesting book, this Holy Bible. When applied to our lives by faith, its message begins to actually live through us, and bring our lives into alignment with God's will.

We could spend a lot of time researching the many descriptions or definitions of God's Word. I like to describe the Bible as a living prophetic history of God's people, that were, that are, and that are to come.

Hebrews 4:12 says, "For the word of God is living and powerful, and sharper than any two-edged sword, piercing even to the division of soul and spirit, and of joints and marrow, and is a discerner of the thoughts and intents of the heart."

I believe by spiritual revelation and inspiration, we can find an application of the Bible for anything and everything that ever passes our way. I also have come to believe that by faith, all of the Word is for each of us, in its time.

Being a Word study scholar is a wonderful thing. However, it's even more wonderful when we see that every word in the book will sooner or later be applicable to our lives. With this revelation we begin walking and talking the word of life. We do this not by constantly quoting literal scriptures line by line, but rather by living out the message. Read the word, meditate the Word, and find out what the message is. In other words, what is the Bible trying to tell me?

If you see it as a rule book full of laws and regulation, it will require of you things hard to walk in. However, if you see your Bible as God's love letter to you, and rich in His New Testament grace, it will then begin to enable you to live in harmony with its author.

If this all sounds strange or hard to swallow, just start with a sincere appreciation of God and His Word. Tell the Lord how much you love Him. Tell Him how much you appreciate His love letter to you. Hold this precious book next to your chest and say, "Bible I love you. Speak to me, and I will follow you forever and wherever." Then hang on for a wild and exciting ride, through this age and into the next. Jesus said, Heaven and earth will pass away, but My words will by no means pass away. Matthew 24:35.

Sounds like we'll be using this guide book for a long time to come. Enjoy your Bible.

In His Word

Calvin and Barbara
Excited About Upcoming Christmas Programs
We are excited about the upcoming Christmas programs. 12,000 children will hear the good news of the Gospel in a way they can understand and embrace. Many of the children live in small, poor, rural areas and are so blessed by the attention and the small gifts.
Thank you for your part in this effective evangelism tool!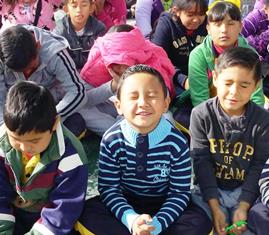 Goals for Christmas 2017

Goal

Have

Still Need

Boy Toys

6,000

1,076

4,924

Girl Toys

6,000

791

5,209

Toys, Candy, Distribution

$30,000

$6,150

$23,850
Bibles Needed
We love to give Bibles in Mexico. We encounter so many people who don't have one.
If you want to help, you can order Spanish Bibles and have them sent directly to:
Faith Ministries Inc.
6787 Kings Highway
Douglas, AZ 85607
Please order the:
First Choice - Nueva Traducción Viviente (NTV)
or
Second Choice - Reina Valera 1960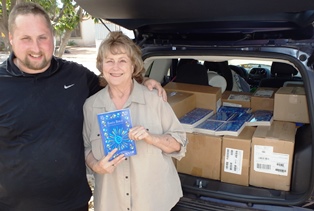 Quinceañera
We were honored to participate in the Quinceañera of Brittany Hoyos in Cumpas.
In Mexico the Quinceañera celebration, when a girl turns 15, is usually bigger than their wedding. There is a service in the church where the girl presents herself to God. Brittany also sang a song of dedication. She is on fire for God, sings with the praise and worship team, and always helps with VBS and Christmas evangelism outreaches.
After the service, there was a reception at the Cumpas community building with a Christian band and meal. Four hundred people were in attendance. A whole bus load came from Divisaderos and other places as well. We probably knew 300 of the guests so it was a happy time of reunion and fellowship.
Meet Our Co-Laborers
Highlighting Pastors and Missionaries
Faith Ministries supports other ministries through some of the following ways: VBS materials, Christmas gift bags, offerings, mission teams, and encouragement. In the coming months, we will introduce those we work with.
In Delicias, Chihuahua, Mexico:

Today takes us to Delicias, Chihuahua, Mexico. Up to this point, we've been sharing about Sonoran's. We'll soon return to Sonora where most of our co-laborers minister.

In 2002 we made an exploratory prayer journey accompanied by Juan and Maria de la Parra to Chihuahua, destination unknown. As we neared the state capital, Ciudad Chihuahua, Juan says, "Hey, I have a name and number of a Pastor I met at a meeting in Juarez. Let's give him a call." Later that morning as we waited at the entrance of a busy market here comes Carlos Rodriquez on his motorcycle.

Carlos pastors a local church and also has a lab where he designs and builds dentures, partials and such for the dental industry. After traditional greetings, we find ourselves literally on our knees in the middle of the store entrance being prayerfully blessed by Pastor Carlos. We spent the night with his lovely family and by his encouragement made an appointment for the next day to meet his brother-in-law in Delicias about two hours south.

Talk about divine appointments, that's where we met Jorge and Maricela Chow and their three teenage children. Within about sixty seconds of greeting Jorge, he was in the spirit prophesying over us. Jorge is a prophet, pastor, and pecan farmer, and one of the sweetest guys you could ever meet. We spent a very inspiring and encouraging night with their family.

That initial encounter has resulted in a beautiful and fruitful relationship with Jorge and his family. Over the years, so many times when we would be seeking a word of encouragement or direction from God, here comes a timely e-mail from Jorge.

Many of you know of our missionary journeys into deep canyon country of southern Chihuahua, namely Batopilas and surrounding pueblos. Being used as a prophet in our first introduction, Jorge was instrumental in priming our hearts for the Holy Spirit's direction in making those journeys. He had been to Batopilas and filled in a lot of details in our planning.

Having spirit filled, spirit led ministers connecting with us in Mexico continues to be a highlight in our lives here at Faith Ministries.

Barbara with Pastor Jorge speaking at Casa de Oracion.

Carlos Rodriguez and Family
In Ciudad Chihuahua, Chihuahua, Mexico

Missionaries Luis and Micaela Maulas

Early 2002, we get a call from Mozambique, Africa. Our missionary friend Linda Stanley had been praying for us and the Holy Spirit had been persistently speaking the word Batopila during her prayers. She had strong conviction that we were to research this place and that we would minister there. In her spirit, she visualized a mountainous Mexican pueblo with a river running through it.

Our search revealed Batopilas in the deep canyon country of southern Chihuahua. The map shows it only about 100 miles (as the crow flies) east of where Bob and Miki were living in Navojoa. Unable to fly like crows, we later arrived at our destination by a treacherous 4x4 road, over the enormous Sierra Madre mountains range. A mere 28 hours of driving time from Navojoa. Since then we have found better routes from Douglas taking only about 17 hours.

When we first met the Maulas family, Luis, Micaela, Esmerelda, Flor, and Victoria, they were extremely bruised in every area of life, having been attacked by every form of disappointment and resistance. In their efforts to establish the first Protestant church in the area, they had been hindered by false religions, witchcraft, and the drug cartel, along with many other attacks physically and financially.

They had actually packed up and were waiting for a ride out, to return to their original home in Ciudad Chihuahua, Chihuahua. We spent a day and a night praying with them and ministering the Word. They were encouraged by our visit, unpacked and continued their assignment to build the church, both naturally and spiritually. They also built a church in the nearby pueblo of Satevo. About eight years later they completed their assignment and turned the church and work over to co-pastors Filipe and Lupita Buffason, a brother and sister pastoral team.

Luis and Micaela presently live in Ciudad Chihuahua, Chihuahua where Luis has a business of installing electrical systems and they work in part time ministry. Faith Ministries regularly supports their seasonal children's ministries in VBS and Christmas outreaches into remote pueblos. Last year they reached 3,000 children.

Go to our Tarahumara page with photos of the Batopilas area and the Maulus Family.

Batopilas, Chihuahua

Calvin and Barbara with the Luis and Micaela, two of Luis and Micaela's three daughters, and one of their grandchildren.
Subscribe to our monthly newslettes.
You will find information about Missions Trips, Christmas Outreaches and Vacation Bible Schools by clicking on the Evangelism link to the right under the Main Menu.
Main Menu
Home
About Us
The Vision
Home Church
Evangelism
Newsletters
Pray
Donate