Jump to:
Meet Our Co-Laborers - Ruelas and Suja
Giving Testimony
Dear Faith Family,
We send choice greetings with sincere appreciation for you. Your continuing and prayerful support brings glory to God and a good feeling of accomplishment to our hearts.
For most of our friends and supporters, this little newsletter is our primary form of communication. It does not presently come to you in a fancy or expensive format. One man asked, "Why don't you publish a colorful slick paper magazine?" Well, we're not at all opposed to that; we simply haven't researched the pros and cons. Maybe someday?
Meanwhile, I felt it in my heart to share the principal reason we even do a monthly newsletter. We've written monthly since 1988. Our main reason comes from what we see as our most perfect example, The Holy Bible.
God's Word, the Bible, is a book of testimonies. The Lord uses it to share with His family what He's been doing and what He intends to do, giving testimony to the works of His Kingdom.
Within the same book., He gives space for testimonies from His ambassadors, prophets, and leaders. We read from Genesis to Revelation of the wonderful works of God. I don't know if anyone has ever counted how many testimonies are in the Bible, but I find them in most every reading.
Following this Biblical example, we endeavor to use our little newsletter to share with our family, what the Lord's been doing in our lives and ministry, and at times our future plans. You will find not only reports of activities that Barbara and I are pleased to enjoy, but stories and updates on the lives of many of the beautiful people we share ministry with.
A good way to sum up the explanation of this particular purpose for our letter is better said by the following, borrowed from Psalms 78:2-7: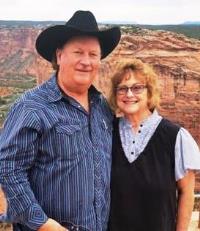 I will open my mouth in a parable;
I will utter dark sayings of old,
Which we have heard and known,
And our fathers have told us.
We will not hide them from their children,
Telling to the generation to come the praises of the Lord,
And His strength and His wonderful works that He has done.
For He established a testimony in Jacob,
And appointed a law in Israel,
Which He commanded our fathers,
That they should make them known to their children;
That the generation to come might know them,
The children who would be born,
That they may arise and declare them to their children,
That they may set their hope in God,
And not forget the works of God,
But keep His commandments.
This passage of scripture shows God's reason for recorded testimonies. They have much to do with the future of our children. I pray that someday my descendants will read the stories of what wonderful things He did for me.
While we're on the subject of testimonies, did you know that our personal testimony is one of the best witnessing tools we have? You don't have to be a Bible scholar or have religious tricks up your sleeve. Just sharing with others what good things God is doing in your life will whet their interest in the things of God. Go ahead, tell someone what you and God have been doing and what you plan to do in the future.
Sharing my heart,
Calvin
Christmas 2017
We are excited about the upcoming Christmas programs.
Our goal this year is for 12,000 children to hear the good news of the Gospel in a way they can understand and embrace.
Many of the children live in small, poor, rural areas and are so blessed by the attention and the small gifts.
Thank you for your part in this effective evangelism tool.
These photos show just a few of our family members that have been part of the Christmas Outreaches.
We will not hide these truths from our children; we will tell the next generation about the glorious deeds of the Lord, about His power and His mighty wonders.

Psalms 78:4 NLT

Goals for Christmas 2017

Goal

Have

Still Need

Boy Toys

6,000

4,750

1,250

Girl Toys

6,000

4,750

1,250

Toys, Candy, Distribution

$30,000

$22,000

$8,000
Meet Our Co-Laborers
Highlighting Pastors and Missionaries
Faith Ministries supports other ministries through some of the following ways: VBS materials, Christmas gift bags, offerings, mission teams, and encouragement. In the coming months, we will introduce those we work with.
In Cumpas, Sonora, Mexico:

In 2003, our son Bob and his wife Miki were living in Navojoa, Sonora. Their main ministry focus at the time was El Shaddai, a Bible Training Institute they had founded to train and fire-up Christians, who knew they are called to the ministry, but just needed a push in the right direction to get started. Various pastors hosted their work throughout Sonora and Chihuahua. While at Temple Calvario, with Pastor Enrique Figueroa in Navojoa, Barbara and I were invited to teach a few days.

I remember one-night taking notice of a strikingly handsome young couple as they came into the room. Alberto and Zulma Ruelas seemed to spark laughter and joy as they began greeting the other students. Little did I know that our lives would spiritually connect to them leading to many beautiful experiences in ministry to the pueblo people of Mexico.

The laughter we first heard that night has followed our relationship through the valleys and mountains of life's journey. To this day, when Barbara and I feel the need to smile, we simply think of Zulma. Her special laugh brings joy even by memory.

Since graduating from El Shaddai, they have been faithful to stay the course through many ministry assignments. They are presently establishing a new church in Cumpas, Sonora, Casa de Oracion – Dios Habla Hoy. They are building it physically from the ground up and spiritually filling it with new converts day by day. In the infancy of the new work, Alberto supplements their income by working as a gas station attendant. When residents from the area need prayer or encouragement, they intentionally buy gas from him. His journal records multitudes of healings and salvations as he exercises his anointing by praying for people while their tank is filling. It's a beautiful thing to see.

Alberto and Zulma have three children, Alberto (20), Isela (13), and Jason (9). Faith Ministries in helping them with their new work and we look forward to many more laughs together.

Proverbs 17:22 A merry heart does good, like medicine.

Casa de Oracion - Dios Habla Hoy
In Tepache, Sonora, Mexico:

Another couple we met in 2003 was Rodrigo and Olga Suja. They too are graduates of El Shaddai. They have three children, Nathan (14), Crystal (12), and Rodrigito (8).

Rodrigo's wife, Olga and Alberto Ruelas, of Cumpas, are sister and brother. Their parents are Manuel and Irma Martinez who pastor the church in Villa Hidalgo. We will write about the Martinez' soon.

In 2006, the Suja's moved from Navojoa, Sonora to Tepache, Sonora and have been pastors of La Roca de Israel since that time. Rodrigo is an anointed musician.

Their family has helped us for many years doing Christmas programs in a number of towns in Central Sonora. They do an excellent job of presenting the Gospel to unreached pueblos.

In Tepache, Rodrigo has good relations with city leaders and local residents. They have related well with the people of that community. Rigo supplements their pastoral income by using his occupation as an electrician. In addition, he leases pasture land where he raises a few head of cattle.

They have recently started doing weekly outdoor services for the youth in the plaza. It is going well.

La Roca de Israel
Subscribe to our monthly newslettes.
You will find information about Missions Trips, Christmas Outreaches and Vacation Bible Schools by clicking on the Evangelism link to the right under the Main Menu.
Main Menu
Home
About Us
The Vision
Home Church
Evangelism
Newsletters
Pray
Donate