Faith Ministries Church in Douglas, Arizona
Go to our Email Campaign Archive to read uplifting messages featuring many topics from past and current Sunday bulletins.
Calendar of Events and Daily Bible Reading Schedule
In 1989, the Lord instructed Calvin Scott to permanently establish a church in Douglas, Arizona. The Lord said the church was to be for family, for Douglas, and for a base of operations for the mission wor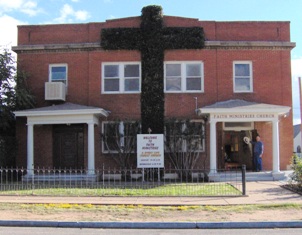 k in Mexico, Latin America and all the world. The first service was in May of 1990. The Scott's joined prayers with other believers in Douglas and have been praying for the people, churches, city leaders, and the city ever since. We have seen many miracles in that time.
One of the miracles was the donation of the current church building in 1996 from the Douglas congregation of the First Christian Church, Disciples in Christ.

On January 1, 2000 Faith Ministries Inc. launched a 25-year vision and plan for continued growth both locally and in world missions.


If you are ever in the Douglas area we would love to have you join us for service. We are a Charismatic Family Church with a contemporary atmosphere, with respect for traditional church values. We love Douglas and have a BIG heart for missions.

Service Times:

Sunday's 10:00 AM

Service for all ages. Children's church for ages 2-11. Nursery for birth-2 years.
Parents are welcome to keep their babies / children with them during service. We also have a private room available with speakers for parents who want to hear the service but need to take their children out.
Sunday's 5:00 PM
Youth Group every Sunday.
Wednesday's 6:30 PM

Praise and Worship followed by classes for all ages including nursery care.
Spanish Services
Contact us for Spanish service times.
Calendar of Events and Daily Bible Reading Schedule
Events Calendar - March 2018 April 2018
Bible Reading Schedule - March 2018 April 2018
You will need free Adobe Reader to view the above files.

Directions
Faith Ministries Church is located at 901 11th Street (corner of 11th Street and C Avenue) Douglas, Arizona 85607.
For more info call (520) 364-6187 or contact us.



Why We Do What We Do
Why do we sing and shout? Isaiah 12:5-6, Psalm 5:11
Why do we raise our hands? 1Timothy 2:8
Why do we dance? Psalm 149:3, 150:4
Why do we kneel and prostrate ourselves? Philippians 2:10, Romans 14:14
Why do we weep and laugh? Luke 6:21, Psalm 126:5-6
Why do we pray for the sick and anoint with oil? James 5:14-15
Why do we lay hands on people? 1Timothy 4:14
Why do we speak in tongues and prophecy? 1 Corinthians 14:4-5, 39

Why Should I go to Church?
If you have accepted Jesus as your personal savior the Bible says you should get together with other believers. Church is usually the best place to do this.
In response to all He has done for us, let us outdo each other in being helpful and kind to each other and in doing good. Let us not neglect our church meetings, as some people do, but encourage and warn each other, especially now that the day of His coming back again is drawing near. Hebrews 10:24-25 TLB