About Faith Ministries
Faith Ministries is a church based outreach with a burden for the lost and compassion for the hurting. Faith Ministries preaches faith for today, hope for tomorrow, and the power of God's love to change lives.
Faith Ministries History
Faith Ministries' pastoral directors are Calvin and Barbara Scott. They began working part-time in Mexico in 1985 and then in 1987 moved to the border town of Douglas, Arizona and began working as full-time missionaries. Since then they have established a headquarters church in Douglas, Arizona and mission outreach stations in the towns of Cumpas, Villa Hidalgo, and Navajoa, Sonora, Mexico.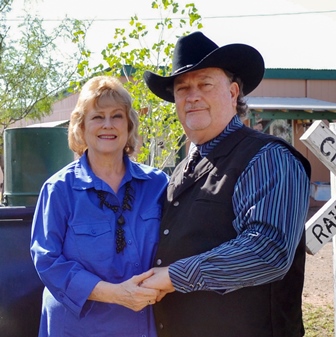 Calvin and Barbara Scott
Mission Mexico History
Mission Mexico began in 1985 and for the first five years operated as a home based ministry of helps. Faith Ministries construction teams helped build two churches in Mexico and developed a ministry of distribution to the poor. Many tons of food, clothing, Christian literature, and medical supplies brought relief to the needy.
From 1990 to 2000 Faith Ministries operated with a 10-year plan to target specific areas of northern Sonora for evangelism and planting of new churches. There were numerous outreaches in 25 communities and 9 churches were established. Faith Ministries helped with the construction of 7 of them. The outreaches helped to give each community a positive attitude toward Christianity.
On January 1, 2000 Faith Ministries began a new 25-year assignment from the Lord to expand into and develop new areas beyond Sonora, throughout Latin America, and around the globe.
Within the first six years of the new millennium a mission station was established in Navojoa, Sonora where Bob and Miki Scott served as field directors for Faith Ministries. Bob and Miki have ministered in numerous churches of the area and do outreaches in many surrounding communities that have never before heard the plan of salvation. They have established a ministry training school, El Shaddai Ministry Training Institute, where they impart to the local people zeal and anointing to reach the lost around the world and establish churches. Since 2003 when Instituto El Shaddai commenced, over 600 laborers have been trained for the ministry, and they are currently pastoring and working alongside twenty four 5-fold ministers. Their current vision is to help establish 1000 pastors, that every city/village has an Antioch church; and send out 100 missionaries from Mexico to the other nations of the world.
Faith Ministries has also established ministry roots in the area of Batopilas, Chihuahua. It is a very remote, rugged area where there are five canyons deeper than the Grand Canyon. Many people live beyond any roads and the roads that are there are generally just bulldozer trails cut into the mountains and canyons. There are a vast number of communities without a Christian witness and people exist who have never heard the name of Jesus Christ. Faith Ministries begin doing Christmas programs there in 2002, and assisted with the building of a local church that reaches Batopilas and surrounding communities. 2005 saw the completion of the new church building in Batopilas. This same year construction on another new church was started 12 miles (1hr) away in the pueblo of Satevo, Chihuahua, it's building finished in 2008 by a missions construction team. These two churches have mixed congregations of Mexican and Indigenous peoples. Drug wars over cartel territories have taken many lives from local families in recent years. Pray for violence to cease and violent hearts to turn to God, and for evangelism to remain alive in the Batopilas and Satevo areas.
Bobby and Miki Scott
Both Bob and Miki have been in the ministry since 1987. In 1990 Bob Co-founded Faith Ministries Church in Douglas AZ. After they were married in 1992, they served as pastors at FMC, while also inter-mingling missions work to Mexico. They led North American groups for short-term missions trips and taught in Mexican Bible Schools.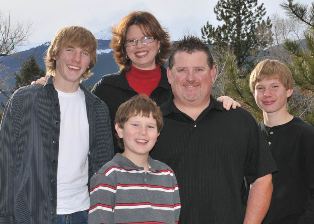 Bob and Miki Scott with sons....
Bob has also traveled and ministered in Peru, and Miki in Israel, Spain, and South Africa.
Bob is a graduate of Rhema Bible Training Center.
Miki is a graduate of Christ for the Nations.
Bob and Miki are fluent in Spanish.
Bob is a private pilot.
Miki is a musician.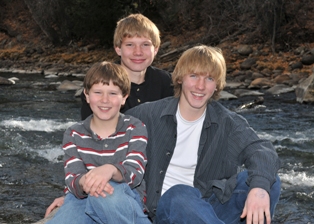 Nathan, Justin and Timothy Scott