In the beginning God created the heavens and the earth.
Today they continue to function.
2000 years ago the Holy Ghost started a new church.
Today it continues to flourish.
In 1985 God brought forth a new ministry in us.
In 1990 God gave us a 10-year plan.
In 2000 God gave us a 25-year plan.
Today we continue to work in all phases.
All that God has begun in us, He continues to perform.
We leave nothing behind but our mistakes.
All else moves forward in Jesus' name!
The Vision
Faith Ministries' vision is to bring Godís truth and love to the unreached peoples of the Earth.
pursue our vision through evangelism at home and abroad.

develop relationships with other ministers of like-faith and become co-laborers with them.

serve others by offering ourselves as a ministry of helps.

build and develop churches from the physical edifice to the governmental structure of church function.

emphasize ministry to children and youth.
From 1990 to 2000, Faith Ministries operated with a 10-year plan to target specific areas of northern Sonora for evangelism and planting of new churches.
On January 1, 2000 Faith Ministries began a new 25-year assignment form the Lord to expand into and develop new areas beyond Sonora and throughout Latin America.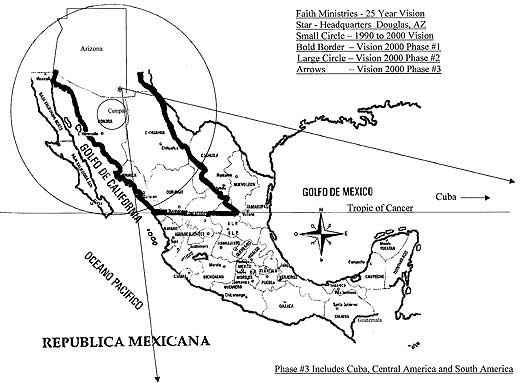 The Plan to Accomplish the Vision
The border area of Douglas, Arizona, USA and Aqua Prieta, Sonora, Mexico is strategic as a doorway between the USA and Mexico. Faith Ministries headquarters in Douglas provides networking vital to effective and continued support for Mexican pastors and associate missionaries.
Faith Ministries is committed to helping Mexican pastors reach new pueblos and strengthening existing churches by providing Christmas programs, children's programs, and other evangelistic outreaches.
To help other people take part in this harvest, Faith Ministries hosts missions teams, Depending on the timing of the trip and the talent involved, these teams go into new pueblos to evangelize, minister in local churches and teach in Bible School, or work on various construction projects.
As Faith Ministries grows and expands into new fields they continue to guard and increase their covenant relations with pastors and churches they have worked with since they began the mission to Mexico in 1985.