Jump to:
Christmas - Just Around the Corner
Missions Trip With Living Faith Church
Family Tree
Dear Faith Family,
Choice greetings to all of your family, or should I say, families? We all have a family from the blood li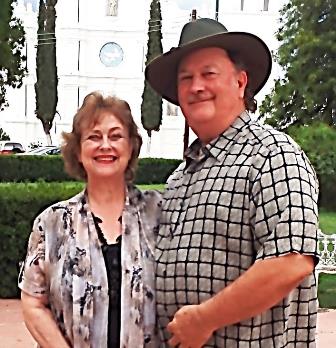 ne of our ancestors and we also have a spiritual family when we're born again into the Kingdom of God.
In July, we had the blessing of hosting a mission team from Exeland, WI. Pastors Tim and Ann Jerry brought nine of their members to Cumpas for a fruitful week of ministry. Several times during the week Pastor Tim said something that has stayed active in my memory. He said, "Five years is a long time not to see your family."
Over the past twenty-four years he has come to Mexico numerous times, but when he realized it had been five years since his last trip he was reminded of how he was missing his Mexican family.
Now, it is obvious that we can't see all of our family members real often, be they blood family or spirit family. But the thing realized here is that we do have a lasting connection, a relationship. No matter how long it has been, we are still family.
During the week we ministered with the team from Exeland, individuals in Mexico received Christ as their savior and were born again into God's Kingdom. Our spirit family has now grown, and those new members will have the eternal connection with our family.
We are family members together in Christ Jesus. Some of you, we will meet again on this side of Jordan. With others, we will have to wait until we are all gathered together on that great ranch in the sky. Never-the-less we are family and will always be so.
Your communication with us is a wonderful reminder of the fond memories we have of you. Even though we have our lonesome moments here, we can rest assured that our day of reunion draws nigh. Within our eternal Father's eternal plan, is our eternal life, and as His eternal family we will live and enjoy one another, eternally.
It is an amazing story when we study our family tree. It all started in Genesis with God's plan for one family. Then sin comes into the picture and the family begins to split apart. By the time of the tower of Babel, it splits into over 6,000 languages. Following our Bible history, we see attack after attack trying to destroy our family. Even in our modern times, one of our enemy's biggest efforts against God's people is the destruction of the family.
But, oh, the wonderful plan of God! 2,000 years ago He sent His son Jesus, with a redemption plan to save His family. Now, the 6,000 languages are coming back together in the Spirit of a family through our Lord Jesus. We find it glorious. And the glory rises every time someone on the planet gets born again. For you are all sons of God through faith in Christ Jesus. There is neither Jew nor Greek, there is neither slave nor free, there is neither male nor female; for you are all one in Christ Jesus. Galatians 3:26; 28
Let's get to the mission fields guys; they are ripe unto harvest and God wants His family to grow.
In His Fields,
Calvin and Barbara

... I bow my knees to the Father of our Lord Jesus Christ from whom the whole family in heaven and earth is named …to Him be glory in the church (God's family) by Christ Jesus to all generations, forever and ever. Amen. Ephesians 3:11-21 Paraphrased
Christmas - Just Around the Corner
We are excited about the upcoming Christmas programs. Our goal this year is for 12,000 children to hear the good news of the Gospel in a way they can understand and embrace. Many of the children live in small, poor, rural areas and are so blessed by the attention and the small gifts. Thank you for your part in this effective evangelism tool.
Nativity Trumps Drugs - Some of the programs go into dangerous areas controlled by the cartel. Last Christmas one of our teams went into pueblos in deep canyons controlled by the cartel. At the entrance of one pueblo, armed guards commanded them to stop and get out of their vehicle. They got out trembling because of the violent reputation of this cartel. When they stepped out the leading guard yelled, Pastor! Then all the guards rushed to them in welcome. The tough, dangerous guards had been in the VBS and Christmas programs when they were children. They told the Pastor that the happiest time of their lives was when they were in his Christmas programs and VBS programs as children.
Note: Many people are forced into the cartel by death threats or out of financial desperation. Pray for these guards that the work the Lord begin in them as children will continue and that they will be set free from the cartel lifestyle.
Christmas - Just Around the Corner

By the time you receive this letter, we will just have three months to buy the toys and candy to prepare the 12,000 gift bags. Stand in faith with us for all of the needed supplies.

Goals for Christmas 2017

Goal

Have

Still Need

Boy Toys

6,000

2,576

3,424

Girl Toys

6,000

2,291

3,709

Toys, Candy, Distribution

$30,000

$7,250

$22,750
Missions Trip With Living Faith Church
Pastors Tim and Ann Jerry from Living Faith Church in Exeland, WI came to spend a week in Mexico. Calvin & Barbara, the Serrato family, and Denise Romo from Douglas joined with them. Every evening we ministered at churches in Cumpas, Nacozari, Jecori, Moctezuma, and Teonadepa.
The men helped with the construction of Alberto Ruelas new church in Cumpas. They got a good start on the walls and helped pour the meter pole. We had the 1st service in the new building. They have been meeting in the Ruelas home.
In the mornings Denise Romo and Maria Serrato conducted a VBS in Teonadepa. The ladies from WI helped with the crafts.
The ladies from WI decided to paint our fences plus all the metal work, doors etc. It was a hard tedious job. Some mornings they started painting at 5:00 AM so they could get a lot done before VBS. We are thankful for their labor of love. It really helped make our mission station look better.
VBS Report - Surviving the Jungle
"Surviving the Jungle" VBS's are taking place around Sonora and Chihuahua for 7,000 children. The program lasts 5 days. The children learn God's Word, how much He loves them, and are led in prayer to receive Jesus as their Savior. They love VBS! Thank you partners for making this fruitful outreach possible.
Surviving the Jungle VBS
Subscribe to our monthly newslettes.
You will find information about Missions Trips, Christmas Outreaches and Vacation Bible Schools by clicking on the Evangelism link to the right under the Main Menu.